SO we done a story a few months back about the South Coast of Labrador where my Wife is From (Port Hope Simpson) and we realized that there's a lot of nice Offroad / Overland attractions in western Labrador. The terrain in the area is a mix of Boreal Forest and sprawling eskers, but there are some passable trails in the area, as well as loads of little off shoots along the Trans-Labrador Highway.  When you head east you can head North on Esker Road just outside of Churchill Falls and explore the Smallwood reservoir and surrounding areas. (Do the tours of Churchill Falls it's Amazing)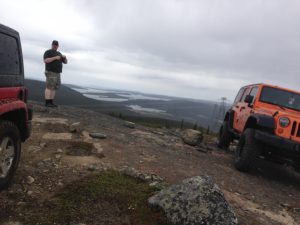 Playing in the Rocks near the TLH
There are actually 2 Towns located in Labrador West, Labrador City and across the Lake Wabush. Both town are centered around the Iron Ore Mining Industry, so you may see some pretty heavy equipment moving about. (DO the Virtual Tour at the Gateway Center!) We're lucky in this area because I can literally leave my house and be on the trail in less than 5 mins. We live in Wabush and there's literally a Offroad playground in back of the town.  I'd suggest contact a local if you really wanted to explore the area, there are some really nice areas to pitch a tent and setup camp. I can't move on without mentioning the walking trails. Smokey, Jean Lake and Tanya lake offer Hiking with different degrees of difficulty. There's a huge Lake network that basically crosses most of Labrador, but be sure you know where you're going, it's easy to get lost in such a vast area of water.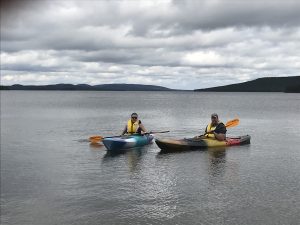 Trying out our new Kayaks in Grande Hermine Lake
If you come through the Big Land from Que the first Town you will come to Labrador City, your first Stop should be the Gateway Labrador Center, located on the TLH just as you enter town. (Just past the Mall exit) It's a beautiful Log structure on the side of the highway and houses a gift shop, museum and tourism information representatives. Depending on the time of year they offer guided tours, bathroom facilities and a spot to spend the night (In the Parking Lot, but it's nicer than Walmart)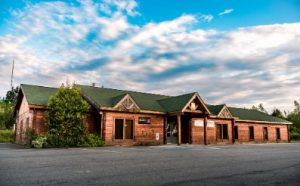 Gateway Labrador
If something more "Outdoors" is to your liking there are 2 Camping parks in the area. Duley Family Park and Grande Hermine Park.
Duley Family Park – Lots available, lots are not serviced, but fresh water is available, park has a dumping station, Bathroom and  Shower Facilities, Each Lot offers a Fire Pit, Picnic Table and garbage can.
Located 17km West of Labrador City on the TLH
Price = $20 a Night
Booking= 1-709-280-1128 or 1-709-280-7645 / Jennymac76@icloud.com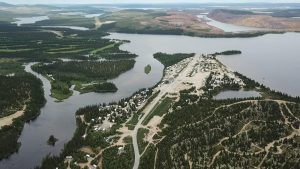 Duley Family Park – From the air, and trail network.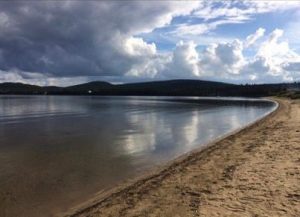 Duley Family Park – a View of the Beach
Grande Hermine – Lots Available, Water offered at the Lot, park has a dumping station, Bathroom and  Shower Facilities (Showers being renovated this summer 2020), Each Lot offers a Fire Pit, Picnic Table and garbage can.  Located 40km east of Labrador City on the TLH
Price = $20 a Night
Booking= 709-280-0403 / jessa1995@live.com
Website: http://www.grandehermine.com/
There is also a Cottage for rent, Please check out the website / facebook for more information.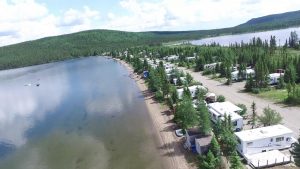 Grand Hermine – Lake and Lots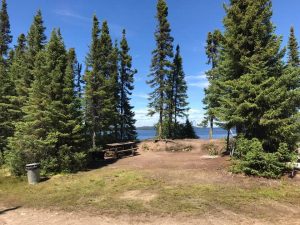 Grande Hermine – Tent Lot
We're normally at Grande Hermine, and if you happen to be down that way drop by Lot 6 on the beach and say "Hi" (Look for the Labrador Jeep Owners sticker in the window). I've spoken to both owners, and they both tell me the lots can accommodate a larger vehicle, like a EarthRoamer or Unimog. Tell em Kent Sent ya!  lol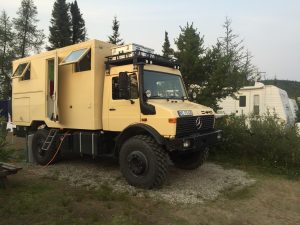 Overlanders from Germany
When you're done admiring the beautiful twin Cities, you can proceed down to the TLH to Churchill Falls. It takes about 2 hours to get there, unless you decide to explore one of the many little offshoots. Churchill is the Site of one of the largest Hydro Electric installations in the Country. Even more amazing is the fact that most of the Power House is almost a kilometer underground. Its worth stopping in and getting the tour of the Power house if you can.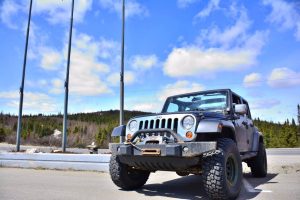 I guess i should inject a little safety to this post.  If you leave Lab West to go East, remember that gas stations are few and far between along the TLH.  There's also no Cell service along most of the highway.  Inquire at the Gateway Labrador about the Satt Phone program if you don't have some form of communication while traveling the area. Also keep your insect repellent at arms length, unless you plan on traveling in the snow. Last but not least, watch the weather forecast, it's not too far fetched to think you may get snow in May, June … well just about anytime of the year. We've been stuck on the TLH in Nov in a Blizzard.
Well that's the summarized version, if you want more information about traveling through and around the Labrador West area you're gonna need to contact the Gateway folks or a local Offroader/Overlander for more specific offroad related questions. Send me a message and I'll do my best!  Next summer I'll be working on a map of Traditional camp sites in the area. (Open space and fire ring…) For right now I can offer a few suggestions if either of the Parks isn't your cup of tea.
Next, I'm hoping to look at some useful Apps for your phone/tablet that can be useful on the trail!
Go anywhere, beat anything!
Labrador Jeeper.
By the Way, of you have an article that you think is Labrador/Offroad/Overlanding related and you think it fits this site send me an e-mail with your idea. I would love to have submissions from others about their experiences.