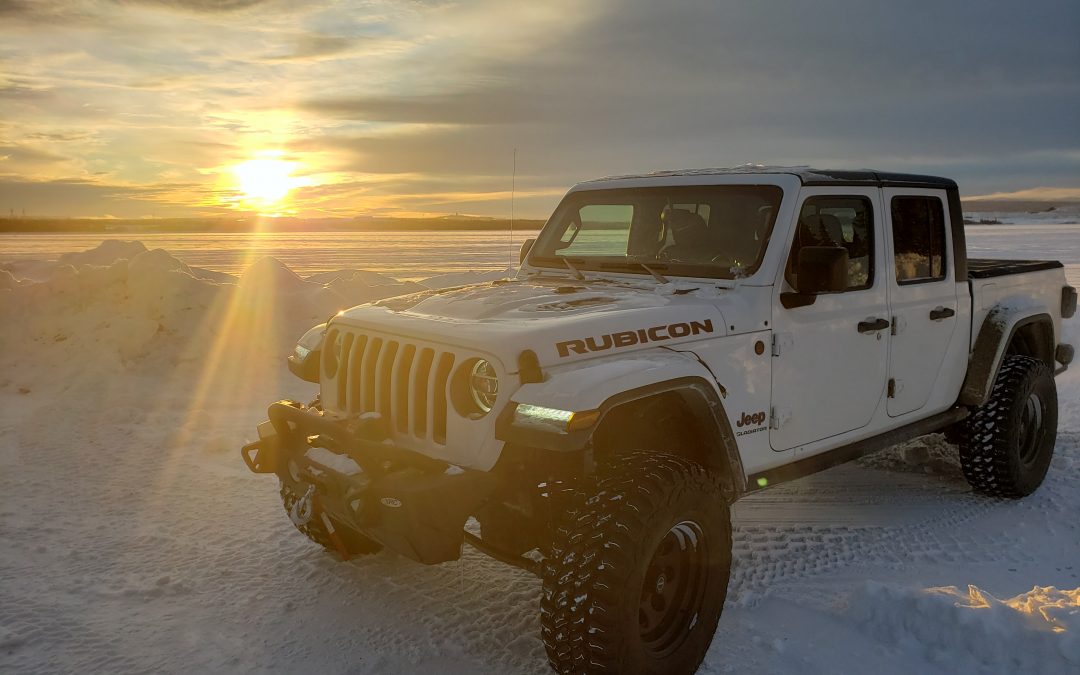 So we have had the Gladiator for 7 Months now. We finally hit 10,000km (Sort of like a baby turning 1 i guess) We're really enjoying the Jeep and can't wait for summer to come to try some offroading. That being said she hasn't been sitting idle!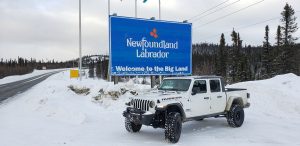 So far we've done 2 Long distance trips (With an Infant) countless trips to the dump, all the running around you could imagine and anything else you can think of, but no real offroading. Reason being, we live in Labrador, and that 12 inches of snow most of you get is cute, we get a lot more here, and by the end of Nov, unless you have tracks you're not getting out on the trail very far.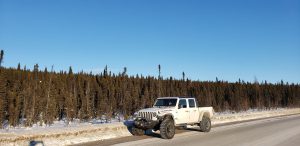 Well what have we figured out so far? The thing is still a pig on gas, and I don't expect that to improve at this point. Was hoping there was a break in period or something….. I know that's pretty optimistic…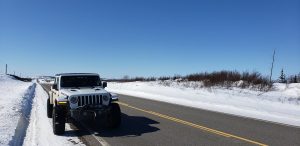 On a more positive note, being that we owned 2 JK's for the past 10 years, having a truck is proving to be Really Really useful. Moving large items around and not having to play Tetris like when we had the JK's is really nice. Carrying items like garbage and gas cans is a much more pleasant experience with those items OUTSIDE the cab.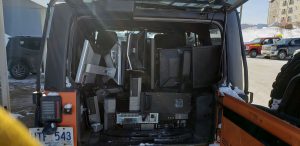 We opted for the Gladiator with Heated Everything, and on a Crispy -40C morning that's really a bonus! We were a little worried about the "Auto Stop/Start" feature might be a pain in the ass during winter, but quickly realized that it is intelligent enough to shut itself off (Meaning the Jeep stays running) when the temps are low. Although I still find it a little unsettling.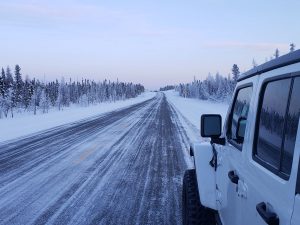 One of my Pet Peeves of the JK's was the TPS system, always seems like the TPS Light was lit up for one reason or another. As a matter of fact I turned it off on my Sahara and had the sensors removed on the Rubicon. In Labrador, the temp can be -35C in the morning and +5C in the afternoon. This wreaks havoc with TPS sensors. Well guess what same thing on the Gladiator, At +10 the tires are reading 37PSI but at -25C that drops to 29PSI which sets off the sensors.  And it reminds you every time you start the rig…. I finally gave in and went and put air in the tires…. I was pleasantly surprised that the PSI updated almost immediately as i filled them up, and the alert went off on it's own.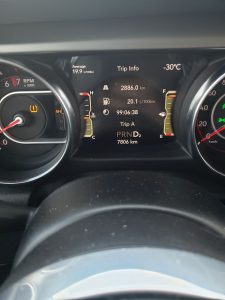 Another item we ran into was a rattling noise coming from the box… took me a few days to realize that the few inches of snow built up on the tonneau cover had melted and was jiggling between the rear window and the box.  Silly problem, but annoying none the less.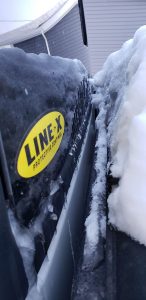 Another concern, which is probably my own fault for going with bigger tires and Offset rims is the fact that the Jeep makes such a mess. I don't care about the mess as such, but I know a long distance trip on dirt road can sand blast the paint off the body of a rig in no time. Wondering what these fenders will look like at a 100k?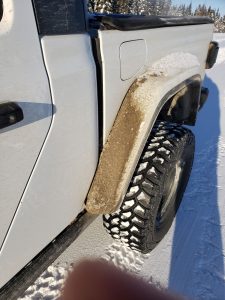 Besides those few "Little" issues the first 10k in the Gladiator have been amazing. We're loving the Rig. It's comfortable, capable and looks great! I can't wait to hit the road again in a few more weeks! Maybe a mini trip to the coast of Labrador, maybe we head into Quebec?  Looking at some upgrades too…. Cargo Rack or Box Cap? Guess we'll see.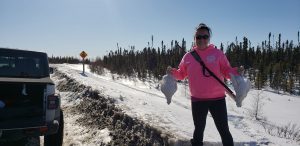 Go anywhere, beat anything!
Labrador Jeeper.
By the Way, of you have an article that you think is Labrador/Offroad/Overlanding related and you think it fits this site send me an e-mail with your idea. I would love to have submissions from others about their experiences.