Well so you bought a new Jeep, what happens now?  Well I bet you didn't realize there's a huge community of people that all use jeeps differently but have common interests…. Jeeps.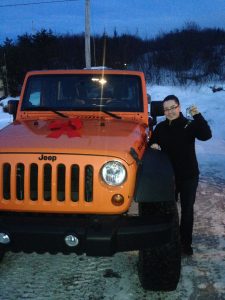 Sheena and her first new Jeep
First let me explain something, there are some people who buy a jeep and have no interest in the "Cult of Jeeple", to these people the Jeep is just another SUV, to be used as a tool to get from one place to another. But the rest of us, the ones who do the Wave (I'll get to that in a bit) we consider ourselves "Jeeple", we attend events, do the wave, and take pride in our machines as thought they cost us the same as a European Supercar.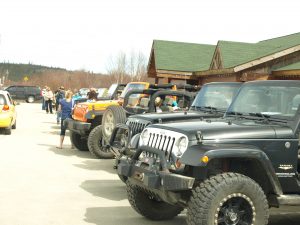 Go Topless event in Labrador City
As a new owner, you need to understand that as a Jeeple you are required to Jeep Wave. The Jeep Wave was started during WW2 as Soldiers would pass by each other in their Jeeps they would Wave at each other through the doorway or open top of the Jeep. (That's the origin story I like, cause there's more than one) This has carried forward to present day and in most places a Jeep owner Will wave. Now there's a bunch of rules about who waves at who, and what are "Real Jeeps" (Purists say only Wrangler owners' wave…. That's up to you) Have a look at these videos for more info.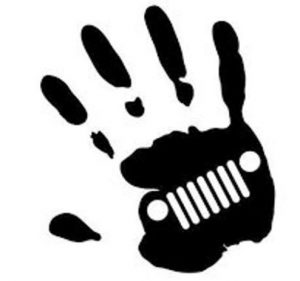 Going to the mall will become a new experience for you.  Along with everyone admiring your new rig, you will find yourself looking for other Jeeps to park next to, we call that a Jeep Cluster.  It's real, and happens often.
Some Jeep Terms you should know:
Jeeple – Jeep owners who participate in the community.
Wheeling – Taking your Jeep off-road also referred to as a trail run.
Jeep Wave – The Greeting from one Jeep Owner to another passing on the road/trail
Tow Points – Hook or Loop affixed securely to the Frame or bumper of a Jeep
Jeep Meet – A get together organized by a local Jeep Club
Jeep Cluster – A random group of Jeeps parked next to each other in a public parking lot.
Mall Crawler – A Jeep that will never see anything but Pavement.
Rock Crawler – A Jeep heavily modified for climbing rocks.
Overlander – A Jeep that is setup for Long Range offroading, and camping.
Bogger – A Jeep heavily modified for speeding through Mod and Bog.
High Center – When a Jeep is propped up on the frame between the axels, resulting in loss of traction.
Approach Angle – The angle at which you can Approach an obstacle and avoid scraping the bumper.
Departure angle – The angle you can leave an obstacle without hitting the rear end of your Jeep.
33"s, 35"s, 37"s… – Refers to the size of tires you are running on your Jeep. 33"s tires, 35" tires and so on. (I hear there's even a 39.5", he he he)
Lift – Suspension or body parts that make the Jeep higher. Giving more ground clearance and room for larger tires.
Death Wobble – A problem resulting from worn or broken parts, can also be caused by incorrect suspension geometry. Symptoms include violent shaking of the steering and fluttering of the front wheels. (It's scary as hell the first time)
Articulation / Flex: The ability of your Jeep to twist its axels and have the wheels remain on the ground.
Soon you will begin noticing other Jeeps where ever you go, don't worry, this is perfectly normal. As you see more and more Jeeps, you may feel the urge to Modify your Jeep.  Just a word of warning, if you plan on making some changes, keep in mind what you plan on using your Jeep for. If you like the ride and fuel economy and don't intend to do any heavy off-roading, I would suggest an aggressive set of tires…. That's it. A Stock sport Jeep will travel any path or country road deemed Stock friendly. Changing the geometry of your Jeeps suspension and putting on bigger tires WILL change the road manners of your Jeep. A Stock Rubicon, is trail ready and really only needs a Winch…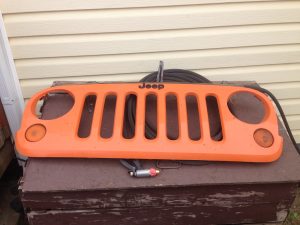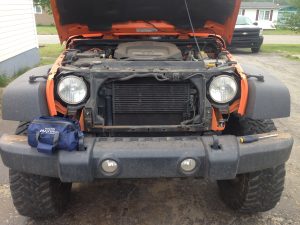 Soon as you get confident driving your new jeep thoughts like "Hmmm can I get up there, maybe I can climb that or I wonder how deep that is begin to seep into your mind. I highly suggest getting to know you're local Jeeple and asking them about Local trails and obstacles. A little research on local trails can save you a butt load of hassle and steer you away from some expensive recovery/repair bills…  I can't forget to mention, if you're going to be on the trail (or off of the trail) do it ethically.  Make tracks not trash! And remember you may be on someone's property.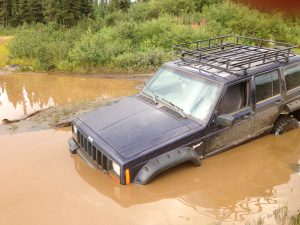 Before you go off into the wilderness, ask about what a trail is rated, I like to keep it simple. Stock Friendly, Stock Capable and Modified. These ratings refer to the capability of Jeep not the trail and in some cases refer to a stock JEEP, not other vehicles.
Trail Ratings:
Stock friendly – Just about type of Jeep can do this run, I would be careful about doing so in a "Non-Jeep Jeep". By that I mean, compass, patriot, Liberty or renegade and even thought I've seen the New style Cherokee do some impressive things, I'd still suggest caution. Way too much expensive pretty plastic to destroy by going off trail.
Stock capable –  A Stock Wrangler will be able to do this run However a 2.5″ lift and 33″s is suggested
Modified – Jeep must have a Lift, Larger than Stock Tires, experienced driver and appropriate recovery gear (Winch, Tow Straps, basic trail repair tools)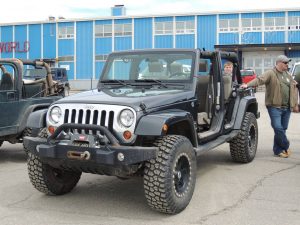 Modified: 4″ Lift, Rock Bumpers, 35″s. Winch and onboard recovery gear. (Plus much more!)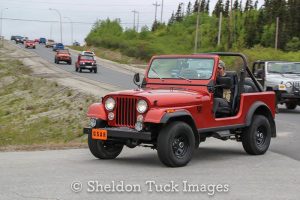 Stock: Unmodified
Some new Jeep owners, might be "New to them" jeep owners, and my suggestion for you folks is, ASK QUESTIONS! Interrogate the previous owner about Mods, oddities, quirks and upgraded parts before you hand over the cashola.  Once its bought you may not have that opportunity again. And knowing that that JK you just bought has a Spicer Drive shaft conversion on the front, could save you a bunch of screwing around and money. Make sure that the rig meets provincial guidelines for registration before you buy it.  It's getting harder and harder to get modified Jeeps inspected. Suspension changes have to be done safely and properly. I've seen some real doozies, if it has hockey pucks or U-Bolts made from Threaded stock, RUN!
Parting advice,We've driven all sorts of Jeeps, and we know that the JK and JL/JT are that we like. Before you making huge changes, go see someone you know that has a modified Jeep and go for a ride, a modified rig is not for everyone.  The more modifications you make the more expensive the Jeep will be to maintain. But if you use it for what it's built for that's not going to bother you too much. If you want some examples of where you can go, read back through some of out Blogs, or check out my Instagram (N8tureboy2007) It's amazing the world a new Jeep can open up.
Got something that you think i forgot? Comment below!
Keep an eye out for our next Post, doing an article on Wheeling in Labrador West!
Go anywhere, beat anything!
Labrador Jeeper.
By the Way, of you have an article that you think is Labrador/Offroad/Overlanding related and you think it fits this site send me an e-mail with your idea. I would love to have submissions from others about their experiences.